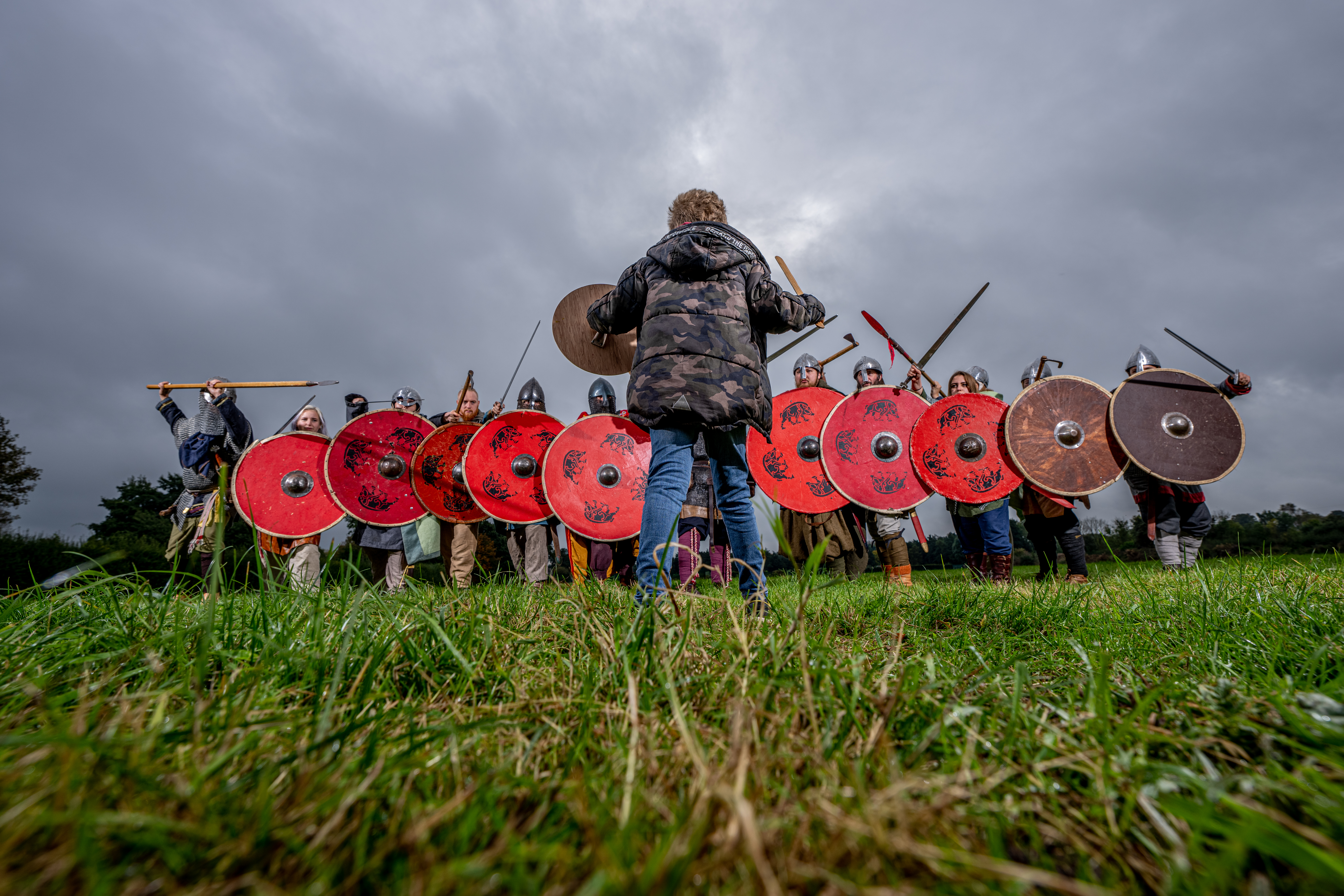 Viking Festival
Get ready to face the Vikings again at Jorvik Viking Festival 2022
Get read to face the Vikings again at Jorviik Viking Festival 2022
Alongside the epic battles, impressive beards and probably the largest parade of Viking warriors in Europe, the JORVIK Viking Festival has always been family friendly, so what can young Viking fans look out for when York returns to the grip of the Norse invaders from Saturday 28 May to Wednesday 1 June 2022?
Top 13 things for families to see and do at the 2022 JORVIK Viking Festival – all in York's city centre:
Viking Encampment, Saturday 28 May - Wednesday 1 June 10am-4pm, Parliament Street, York - a chance to meet the Vikings who have gathered in the heart of Jorvik (Viking York) – learn about their trades, see their crafts in action and get a selfie or two! Free event.
City Centre Stage, Saturday 28 May - Wednesday 1 June 10am-4pm, Parliament Street, York: three saga-themed storytelling sessions plus have-a-go sword-fighting workshops all day. Free event.
Annual Strongest Viking Competition, Saturday 28 May 11am, Parliament Street, York: With hammer-holding, leg-wrestling, hand-to-hand combat and more, cheer on your favourite Viking champion at this family-friendly contest. Free event.
March to Coppergate, Saturday 28 May 1.30pm-2pm, Deans Park: see and hear hundreds of Viking warriors as they muster in their fearsome armies next to York Minster before marching through the city to Coppergate, their war cries echoing around the streets. Free event.
Best Beard, Saturday 28 May 3pm, Parliament Street, York: this fun competition has become something of a cult highlight, drawing huge crowds and some very competitive participants! Young or old, male or female – all are encouraged to enter and try to win the highly prized beard trophies. Homemade beards are permitted! Free event.
The JORVIK Games, Saturday 28 May 6.45pm, The Eye of York: A brand new event for 2022! Who has what it takes to be crowned Jorvik Champion 2022? Four teams of intrepid warriors nominate their champions to complete challenges of skill, strength, nerve and wit – and occasionally, treachery. Expect combat, impressive feats of endurance and plenty of laughs as you choose a team and cheer them to victory in this family friendly spectacular. Tickets: £15 for adults, £11.00 for concessions, and free for children under 3. Prebooking essential – this event will sell out!
10th Century Traders Saturday 28 May - Monday 30 May, Guildhall/St. Sampsons: meet 10th century traders from all over the Viking world, soak up the atmosphere and explore stalls selling Viking goods, from hand-crafted weapons to authentic jewellery and much more! Ticket Price: Adult £3; Concession £2; Family x4 £8.
Meet the Vikings, Sunday 29 May, 1pm-5pm, 29/31 Coney Street, York: This year the JORVIK Learning Team has teamed up with Viking interpreters from other world-class museums outside the UK. Join Vikings from York, Dublin, Stavanger and Copenhagen for a drop-in afternoon of activities, storytelling and crafting demonstrations. Free event.
Viking Crafting for Kids, Tuesday 31 May and Wednesday 1 June 10am-4pm, Parliament Street, York: Try your hand at various Viking crafts - pottery, wool-braiding, beard making, coin pouch making and flag painting. Free event.
Poo Day Wednesday 1 June 10am- 4pm, DIG: An Archaeological Adventure: It's smelly, it's squelchy – but it tells us lots about the past! Bring the kids to find out why archaeologists love poo and get hands on making your own replica poo fossil. Don't forget to go and see the famous Lloyds Bank Turd at JORVIK Viking Centre! Ticket Price included in admission to DIG.
JORVIK Viking Centre itself – open daily. Explore York's Viking heritage in this world-famous attraction, built on the site of York Archaeological Trust's original Viking dig in the 1970s, and see Coppergate as it would have looked in the 10th century with a stunning recreation of part of the Viking city of Jorvik. Plus, on special loan from Lancashire County Museum Service, is the Silverdale Hoard, one of the largest Viking hoards ever uncovered in the UK, with more than 200 pieces of silver rings, hacksilver and coins of Anglo-Saxon, Viking and Arabic origin. Ticket Price: Included in admission to JORVIK. Ticket price: £13.50 adult, £11.50 concessions, £9.50 children. Family tickets £39.00 (two adults and two children) or £45.00 (two adults and three children).
Magic & Mystery: Seafaring, Sagas & Spells at Barley Hall 28 May to 1 June: Explore Norse beliefs about crossing perilous seas and discovering new shores. In this special addition to Barley Hall's Magic & Mystery exhibition, only for JORVIK Viking Festival, find out how Vikings sought protection from the elements on voyages and told tales of encounters with sorcerers, shapeshifters and sea monsters. Ticket Price: included in admission to BH, ££7.50 for adults, £6.00 for concessions and £4.50 for children.
Tiny Diggers: 30 May and 3 June, 9am-10am, DIG: An Archaeological Adventure: these sensory play sessions using textures found in archaeology are designed exclusively for babies and toddlers. Ticket Price: £6.50
"There's something about the Vikings that fascinates children and sparks their interest in history and archaeology. As the largest Viking festival of its kind in Europe, we work with some of the most skilled historic interpreters and experts in the world to put together a packed programme of family-friendly activities that will have children of all ages hooked for life!" comments event manager, Gareth Henry.
For more information or to book places, please visit jorvikvikingfestival.co.uk