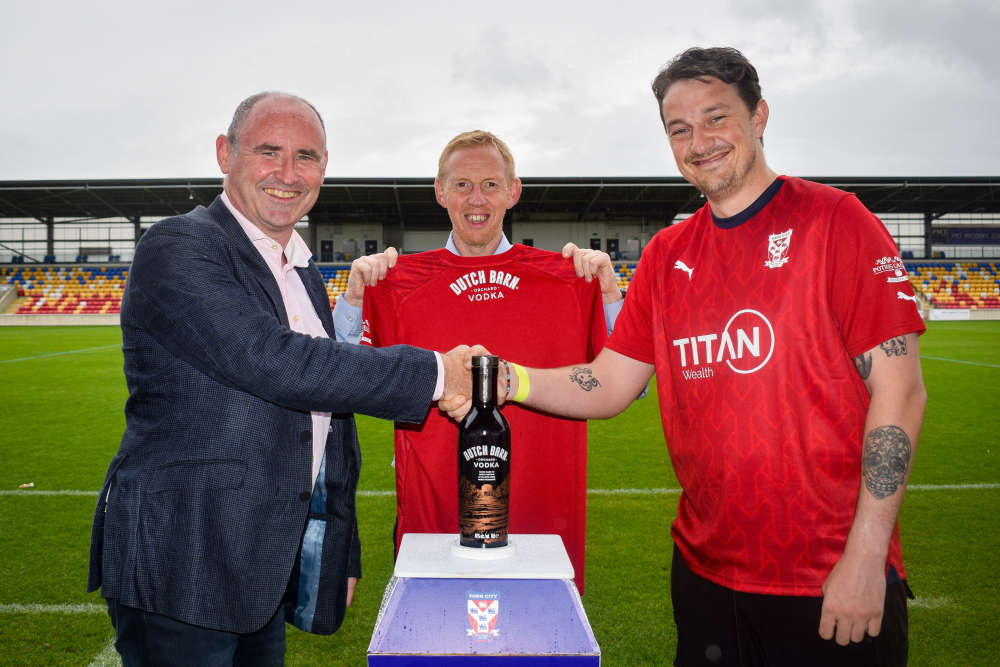 Ellers Farm Distillery, the multi-award winning distillery based just outside Stamford Bridge in York, is delighted to announce Dutch Barn Orchard Vodka as a new sponsor for York City FC.
Dutch Barn Orchard Vodka will appear as the back-of-shirt sponsor for both the Minstermen's home and away kit for the 2023/24 season with immediate effect.
Dutch Barn Orchard Vodka is an innovative liquid that is hand-crafted from British apples - unlike any other vodka on planet earth - producing a flawless and exceptionally smooth sustainable vodka made in the heart of North Yorkshire. Alongside Dutch Barn Orchard Vodka, the distillery also produces a range of gins, liqueurs and English whisky. The distillery has a Distillery Door shop and is open for tours so consumers are able to witness and learn about the process of turning apples to vodka first-hand on-site, and enjoy a guided tasting from the distillery team.
B Corp Certified Ellers Farm Distillery, the home of Dutch Barn Orchard Vodka, has been carbon neutral since day one. What's more, the team has also planted 2.5 acres of apple trees at the distillery, which will not only remove carbon from the atmosphere as they grow, but create a biodiverse habitat that benefits local pollinators, birds, and mammals.
York City opted to seek alternative opportunities following the previous sponsor's inability to fulfil its agreement with the Football Club. The new Dutch Barn Orchard Vodka-sponsored kit will first be worn by the Minstermen at Saturday 16 September's fixture against Southend United at the LNER Community Stadium, and is available to purchase now.
On partnering with Dutch Barn Orchard Vodka, York City FC Co-Chair Matt Uggla said:
"I am delighted to announce that Dutch Barn Orchard Vodka, a local sustainable brand with global ambitions, is now one of our key sponsors and our new back-of-shirt sponsor.
"We were left in a difficult situation by our original back-of-shirt sponsor but the Ellers Farm Distillery team moved quickly to support us and we are really excited to have formed this new partnership with Dutch Barn Orchard Vodka. Due to the change, any supporter* who has purchased either a home or away shirt so far this season can return it to the club, who will ensure it is reprinted with our new sponsor free of charge."
*Please note the option to update shirt sponsors will not be undertaken on junior shirts due to law, 18+ drink responsibly.
Speaking on entering into this exciting partnership with York City FC, Steve Hickey, Sales Director at Ellers Farm Distillery said:
"We are very pleased to have been able to step in to support York City FC. We are based just 6 miles from the LNER Community Stadium, so this is a natural partnership for us. Personally, I know first-hand what a fantastic club YCFC is, with both my sons going through the Academy at York and being a part of the Club's loyal fan base. Being a local brand with big ambitions, Dutch Barn Orchard Vodka and York City FC are perfectly aligned to perform together on such a locally important sporting stage".