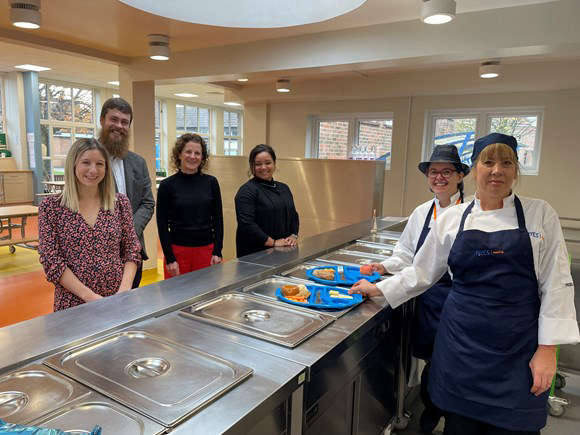 City of York Council's Executive has agreed a Universal Free School Meals Pilot Project for Key Stage 2 children in the city.
At its meeting on 16 November, the council's Executive agreed plans to implement a pilot project to extend Universal Free School Meals ("UFSM") to Key Stage 2 children (school years 3-6).
The pilot will provide free school lunches to pupils in Key stage 2 at Westfield Primary School from January -December 2024.
If additional funding is found through York Community Fund, the pilot will also provide breakfast to children in Key Stage 2 at Burton Green Primary School (for £1 per child) from January until December.
Meals provided through the pilot will be in addition to the Government's national offer for all children in Reception and Key Stage 1 to receive a free school lunch.
The project delivers on the Council Plan commitment to create a cross-city alliance to address disadvantage and the cost-of-living crisis.
The Council Plan, agreed in September includes a commitment to start the journey towards becoming an anti-poverty city within a decade, including supporting young people and families, reducing food insecurity and exploring the benefits of free school meals for all primary school children.
Councillor Bob Webb, Executive Member for Children, Young People and Education said,
"This is a key part of meeting the four core commitments we made to the people of York in our new Council Plan when we said we would support young people and families, reduce food insecurity and explore the benefits of free school meals for all primary school children.
"The evidence suggests Universal Free School Meals both support the human right to education and reduce health inequalities and - in terms of affordability - this is about ensuring primary children have access to a healthy, good quality breakfast or school meal, regardless of their ability to pay, reducing childhood obesity and improving dental health.
"In addition, there is a climate advantage, as the pilot project will reduce food waste and the assessment of school kitchens is being used to improve energy efficiency."
Councillor Claire Douglas, Leader of City of York Council, said:
"I'm really pleased to see progress being made on one of our key commitments within the new Council Plan. This has been made possible due to a new approach of the council looking beyond itself and working in partnership to achieve the best outcomes for our residents. I'm confident this is just the start and that this new partnership will be expanding its offer to more primary schools in the near future".
The Emergency Council budget meeting in July 2023 confirmed that c. £100,000 of Council funding would be ring-fenced to support the delivery of the UFSM pilot. This will be used as seed funding for the pilot and assessment.
Evaluation of the pilot will focus on gaining evidence about:
the difference the project makes to the take up of meals;

how much healthy food is going to children as a result based on their menu choices and food waste;

any changes in readiness to learn

any changes in absence due to illness and any changes to school attendance.
The University of York have offered to assist with the evaluation of the pilot project, as part of their "Fix Our Food" project.
Lamara Taylor, Headteacher of Westfield Primary Community School, said:
"We're very excited to be part of the pilot and are looking forward to seeing the difference this will make for our children, and wider community.
"Good nutrition is an essential part of health and wellbeing. As a school, we are committed to ensuring all children can focus on learning, rather than being hungry. In support of this, we have provided some pupils with extra fruit, breakfasts and essentials through our food bank for many years.
"The cost-of-living crisis has had a huge impact on families, not just in our local area, but across the whole city. We, along with our governing body, hope that this pilot will make a significant difference in allowing every child at least one good-quality, hot meal, each day.
"Our engagement in this pilot will enable us to evaluate the impact. The feedback we provide will help shape the future offer that best meets the needs of children across the city."
Anyone wishing to donate funding to support the Free School meals pilot can do so via the York Community Fund. A partnership between City of York Council and Two Ridings Community Foundation, the Fund will provide a vehicle for and source of independent funding that supports vibrant and purposeful community action to improve the wellbeing of people in the city. Donations can be made via the Fund website at https://www.tworidingscf.org.uk/appeal/york-hungry-minds/.